When:
July 17, 2021 @ 10:00 am
2021-07-17T10:00:00-05:00
2021-07-17T10:15:00-05:00
Where:
Creekside Park
Large Pavilion closest to Veterans Memorial
When attending Rushford Days in past years, it can be difficult to connect with old friends for whom you no longer have contact information. If you haven't seen each other for years–well, all of us have probably changed a bit in our appearance–how do we find each other?
Here's the solution: (see the same info in this Facebook link.)
Starting at 10:00 AM on Saturday, July 17th, we've designated the Rushford Creekside Park Pavilion #1 as our meet-up spot. Some name tags and sharpies will be provided, but otherwise it's BYOE (Bring Your Own Everything).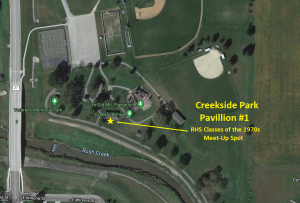 Health and Safety Concerns?
Given the pandemic has not yet been declared officially over, we all need to understand there are some potential health risks when attending any type of gathering. We encourage all planning to attend to get the coronavirus vaccination(s) several weeks in advance of July 17. We ask attendees agree to follow all government-advised precautions that are in place at the time of these gatherings. If something unfortunate were to happen as a result, all attendees agree that the coordinators / organizers of these gatherings shall not be held in any way responsible.