When:
July 14, 2023 @ 5:00 pm – 10:00 pm
2023-07-14T17:00:00-05:00
2023-07-14T22:00:00-05:00
Cost:
Buy tickets at the Button Tent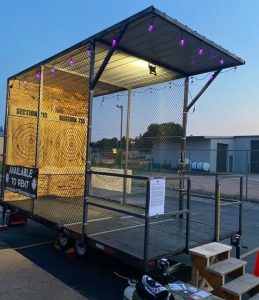 5 throws for $5 or 20 throws for $15
Safety is paramount at Section 715 Throwing Co. To show the amount of effort that will go to ensure every guest has a safe experience, below is the following list of safety features and precautions followed:
All customers are required to sign a Waiver of Liability explaining that they understand the rules and etiquette of Section 715.
Safety training required for every guest by a trained instructor (Axe-pert).
Only one hatchet may be thrown at a time.
Safety rules displayed prominently around the location.
Section 715's staff regularly monitors lanes, enforcing safety codes.
No open toed shoes permitted.
Axes not allowed outside the throwing area.
Overhand and underhand throws allowed.
Double Axe throwing not permitted.
No trick shots, double hatchet throwing, etc…
No aggressive/destructive throwing allowed.
All axes and lanes are inspected daily for wear and damage.
Section 715 employees have the right to refuse play to any persons unable to perform safety requirements.
The minimum throwing age is 8, as long as they have the physical ability to throw a hatchet, as judged by our Axe-perts.
Throwers ages 16 and under must have an adult (18+ years old) with them.